Carcharadon carcharias
Great White Sharks are apex predators in Cape Cod's marine ecosystem. Growing up to 20 feet in length and weighing up to 4,000 lbs., they arrive in the spring as the water temperatures warm to feed on their favorite prey; grey seals.  The population of grey seals has exploded in Cape waters recently and the number of white sharks has increased correspondingly; hundreds of sharks now show up annually. Viewing these majestic creatures in their natural element from the safety of the boat is the thrill of a lifetime.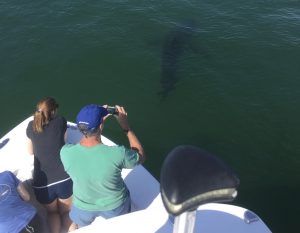 White Sharks are ambush predators. They prefer to stay out of sight and quietly skirt the shallows and sand bars where the seals rest, looking for an opportunity for a quick strike. They are very difficult to locate without the assistance of a professional spotter pilot and airplane. Veteran tuna spotter pilot Norman St. Pierre will be flying for us and in constant contact via radio to guide us to the Sharks.
I have worked extensively on the Dragonfly with the Atlantic White Shark Conservancy and the Massachusetts Division of Marine fisheries during their groundbreaking white shark population studies. The combination of my experience on the water and Norman's expertise in the air give us excellent chances of multiple shark sightings on our trip.
Weather is a determining factor in our ability to run these Shark Trips. Rain or fog will prevent the plane from flying, and strong wind or big surf reduce water clarity and viewing conditions. If you have a window of several days and the ability to go on short notice it will greatly improve our chances, so flexibility on scheduling for these trips is helpful. White Sharks usually arrive in our waters in June and stay until November, but prime time for these trips is July through early October.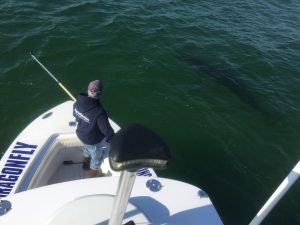 White Shark Charters are approximately 3 hours long and include two full hours with our private spotter plane overhead. Prior to departure we can give you an excellent idea of success probabilities after assessing recent sightings, weather and sea conditions. Our aim is to make this trip one you will never forget!
Great White Shark Adventures
3 Hours (2 hours private spotter aircraft) $1600
Extra hours $500 per hour
6 passengers max (4 optimal)
Gratuities for the pilot and Captain are customary and very much appreciated!
Donations to the Atlantic White Shark Conservancy to support their continuing scientific research, public safety improvements and community education are encouraged.  www.atlanticwhiteshark.org
Check out more of Wayne Davis' amazing aerial photography at: www.oceanaerials.com